Here is a package of past recollections and future inspirations, tangled together into a collage of images;
Showing what can only be created. Recording trends, street-styles, runway effects and inspirational pin-up boards from one season to the next. Think of this space as, but one more drop into the great sea of matter, defined, with the ability to realize style and its existence.
Disclaimer:
I do not own any of the images on this blog unless stated;
The only photos, quotes, and links that I claim to own are under the tag of 'personal', or 'whatdoiwear'. If there is something featured that belongs to you that does not display a credit, please message me and I will be more then happy to apply it for you.
For outfit submissions/affiliation:
e:
what-do-i-wear@hotmail.ca
t.
@Whatdoiwear_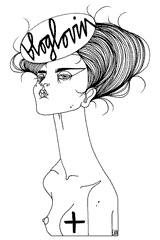 SUBSCRIBE TO MY FAVORITE FASHION MAGAZINES
Fleur Wood Pants, Vintage Top/Sequin Jacket, Tony Bianco Heels, Michael Kors Watch (image: garypeppervintage)
Posted 1 year ago with 387 notes
flauwerina reblogged this from fawun and added:

the colors are so lovely. i love her sequined jacket and that floral skirt.